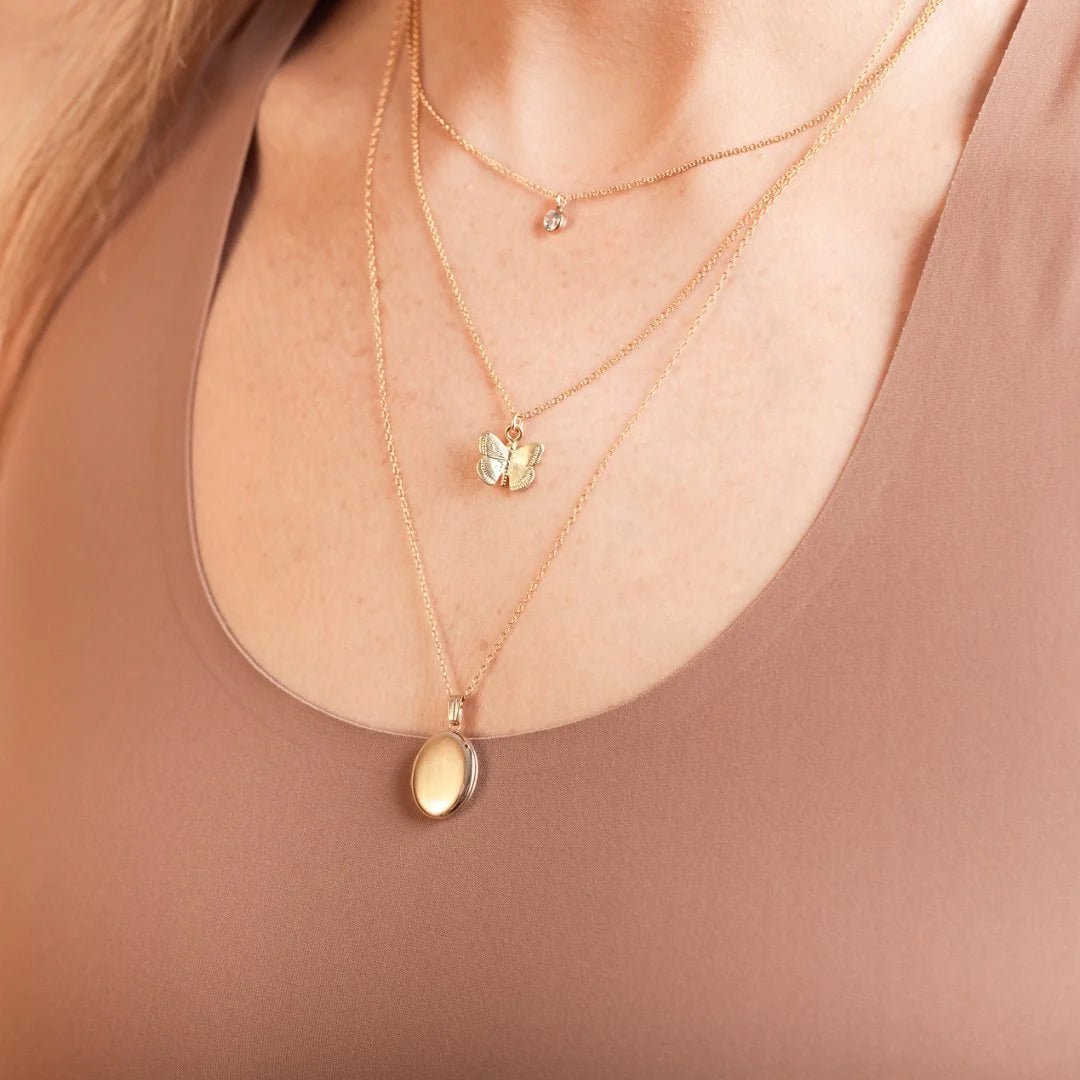 Lock in Memories: How to Put a Picture in a Locket
Hey there! We've written this article to help guide you in how to add a photo to your gold filled locket. If you're looking for a way to keep a special memory close to your heart, our locket is a perfect way to do so! Whether it's a picture of your loved one, pet, or a special place, printing and adding a photo to a locket is an easy and quick process if you follow the tips below:
How to add a photo to a locket:
Option 1: Print Locket Photos at Home, DIY
Open the locket and use a pair of tweezers to remove the clear plastic insert from one side of the locket. The plastic is firm, and should pop out easily. (Make sure to keep the plastic cover because you will use it to hold your photo in place.)
Select & print your photo.  Create a photo template. Hint: we recommend using Locket Studio's quick and easy photo sizer here: Locket Studio. For the Le Serey Oval locket, choose the 14mm width. Make sure to keep the subject's face in the the center of your template.  For best results, use photo paper, not regular copy paper, to print your selected picture.
Place the plastic insert over your photograph and trace around the template. Make sure to center the person's face to the template as you trace around the photo area.
Carefully trim your photo to shape and place it inside the locket. Replace the plastic insert on top of the photo. Note: it should snap into place on its own, or you can use tweezers to make sure the four small tabs on the plastic insert are securely inside the locket. This is an important step to ensure your photo stays in place!
Repeat these steps to add a photo to the other side of your locket.
Option 2 (Recommended): Use a printing service
If you're struggling to print locket size photos and want to save some time and energy, a printing service makes it quick and easy! No more fussing around with your printer, trying to get the size and shape. You just upload your photo, specify the width and height, and voila! Perfectly printed and sized photos for you to enjoy. Plus, these services are usually pretty affordable, so you don't have to break the bank just to get some prints. And if you're worried about the quality, don't be! These guys know what they're doing and they use top-notch equipment to ensure that your photos come out just as beautiful as they were on your camera. So, if you want to save yourself some time and hassle, just use one of these printing services and let them do the work for you!
Our top recommendation: Locket Studio < This is a FREE locket photo sizer that lets you print from home. Note: If printing a photo for our locket, use the outer diameter width of 14 mm rather than the inner diameter we've listed above.
Don't want the hassle of printing from home? Use one of these print and ship options:
Conclusion:
We hope these tips were helpful for you and that now you'll be able to print your precious memories with ease. Remember to always double-check your printer settings and to use high-quality photo paper to ensure the best possible results. And hey, don't be afraid to experiment with different layouts and sizes – after all, making your locket photos look just right is all part of the fun! So, go ahead and start printing those locket pics – we can't wait to see how they turn out!