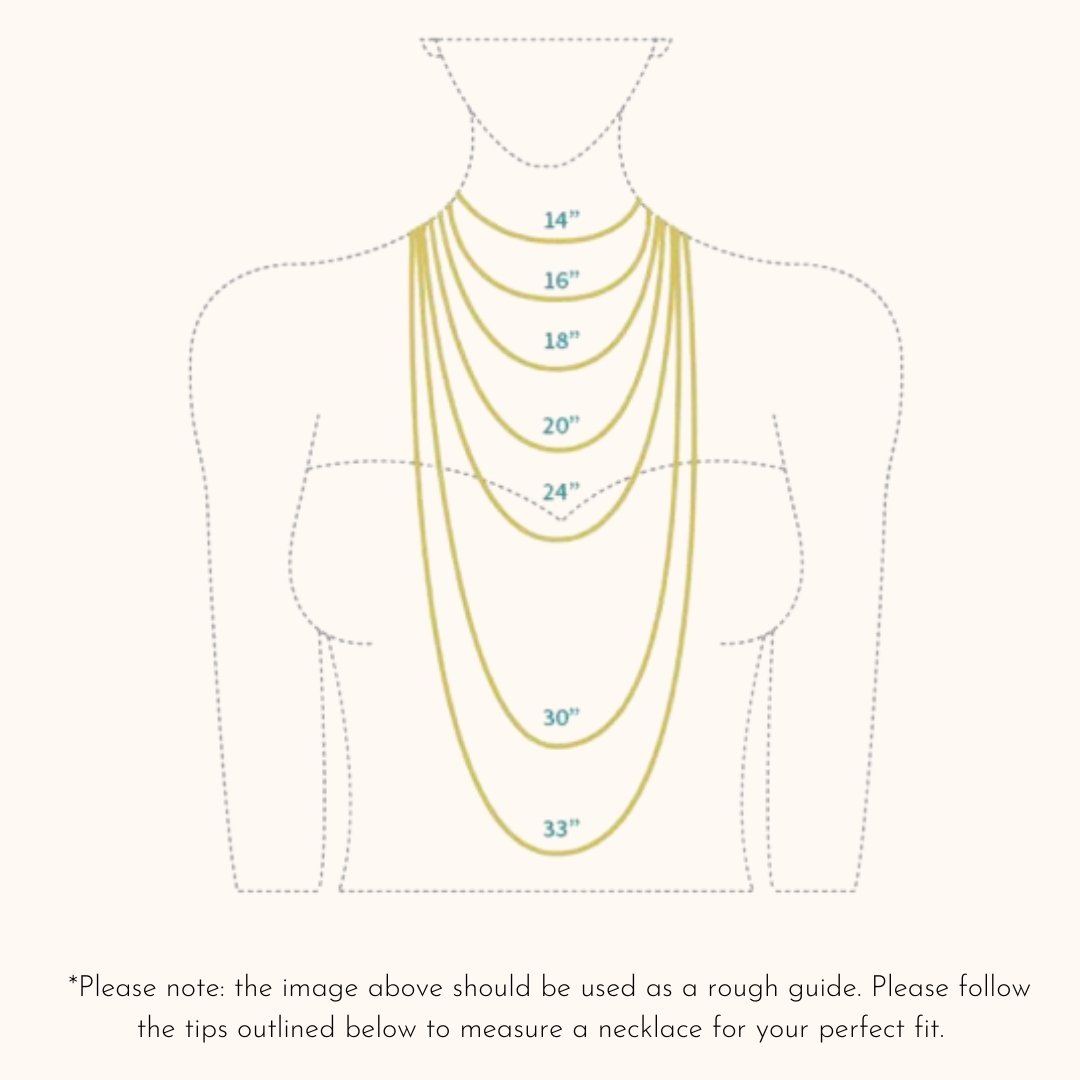 Necklaces 101: The Beginner's Guide to Measure Necklace Lengths and Bonus Necklace Size Chart
Hey there jewelry lovers! Do you struggle with finding the perfect necklace length? Have you ever bought a choker that ended up being too tight or a longer chain that just didn't sit right on your neckline? Well, fear not because measuring necklace length is easier than you think. First things first, let's talk about the different lengths of necklaces.
Why measuring necklace length is important 
Measuring necklace length is crucial to ensure you get the perfect fit for your jewelry. Necklaces come in various lengths and sizes, ranging from chokers to long, statement pieces. Choosing the right length will influence how the necklace sits on your neckline, and can alter the overall look of an outfit. A necklace that is too short can feel uncomfortable, while one that is too long may appear unflattering or unbalanced.
It is also important to measure your specific neckline, including the width of your neck and the position of your collarbone, as this can impact the fit of the necklace as well. Proper measurement will not only ensure the perfect fit but also prevent the necklace from breaking or snagging on clothing due to incorrect length. Ultimately, measuring necklace length is important to ensure that you feel comfortable and confident in your jewelry of choice - as it should be, right?
How to measure necklace length 
To measure the length of a necklace, you will need a tape measure or a ruler.
First, decide where you want the necklace to sit on your body - whether it will be a choker, a collar, a princess length, matinee length, or a longer rope length. 
Take the tape measure or ruler and place it around your neck or drape it over your shoulders.
Find the length that corresponds to where you want the necklace to sit. For example, if you're looking for a choker, measure around the base of your neck, where a choker would sit. If you're looking for a princess length, measure from the base of your neck to just above your bust.
Read off the measurement where the tape measure or ruler meets, and this will be the length of the necklace you should look for. Alternatively, you can use a piece of string or ribbon to measure the desired length, then measure the string or ribbon with a ruler or tape measure.  
Common necklace length measurements:  
Choker necklace: 14-16 inches (35-40 cm): A choker necklace usually measures 14-16 inches or 35-40 cm in length. It sits tightly around the neck, resting just above the collarbone. 
Princess necklace: 18 inches (45 cm): P

rincess length necklaces typically fall between 17-19 inches and sit just below the collarbone. They are often used to showcase a pendant or statement piece.

Matinee necklace: 20-24 inches (50-60 cm): The Matinee necklace typically measures between 20 and 24 inches or 50 to 60 centimeters in length. It is a popular length for necklace styles and falls just above the chest area. The Matinee necklace can be worn with a variety of necklines, from high-necked tops to scoop-necked dresses, making it a versatile accessory for any outfit. Opera necklace: 28-34 inches (71-86 cm)
Rope necklace: 35 inches or longer (89 cm or longer)  A rope necklace is 35 inches or longer (89 cm or longer) is typically considered a long necklace that can be worn in a variety of ways, including:

Single strand: A long rope necklace can be worn as a single strand, creating a simple and elegant look. Simply drape it around your neck, letting it hang low or knotting it at the bottom, depending on the desired style.
Double strand: For a slightly more sophisticated look, try doubling the necklace and letting it sit at the collarbone. This can be achieved by taking the ends of the necklace and looping them around your neck a second time.
Knotted: A rope necklace can also be knotted at various intervals to create a unique and stylish accessory. You can knot it once or multiple times, depending on the desired length and style.
Layered: Layering multiple long necklaces is also on trend and allows you to mix and match styles and metals for a unique look.
Factors to consider when choosing necklace length 
Neck size: The length of the necklace must be chosen keeping in mind the size of the wearer's neck. A larger neck demands a longer necklace, while a smaller neck requires a shorter necklace.
Neckline of the garment: The neckline of the garment worn with the necklace must also be considered. A necklace that complements the neckline of the outfit will make a huge difference in the overall look.
The type and weight of the pendant: The length of the necklace will also depend on the weight and type of the pendant. A heavier pendant should be worn with a shorter neckline, while a smaller or lighter pendant can be worn with a longer necklace. 
Conclusion:
In the end, measuring necklace length is a simple process, but it can make a big difference in how the necklace looks and feels. By taking the time to measure and consider your options, you'll be able to find the perfect necklace for any occasion. If you have any questions, or need tips. Feel free to reach out to us at: info@leserey.com or DM us on Instagram or Facebook. We're always happy to help!