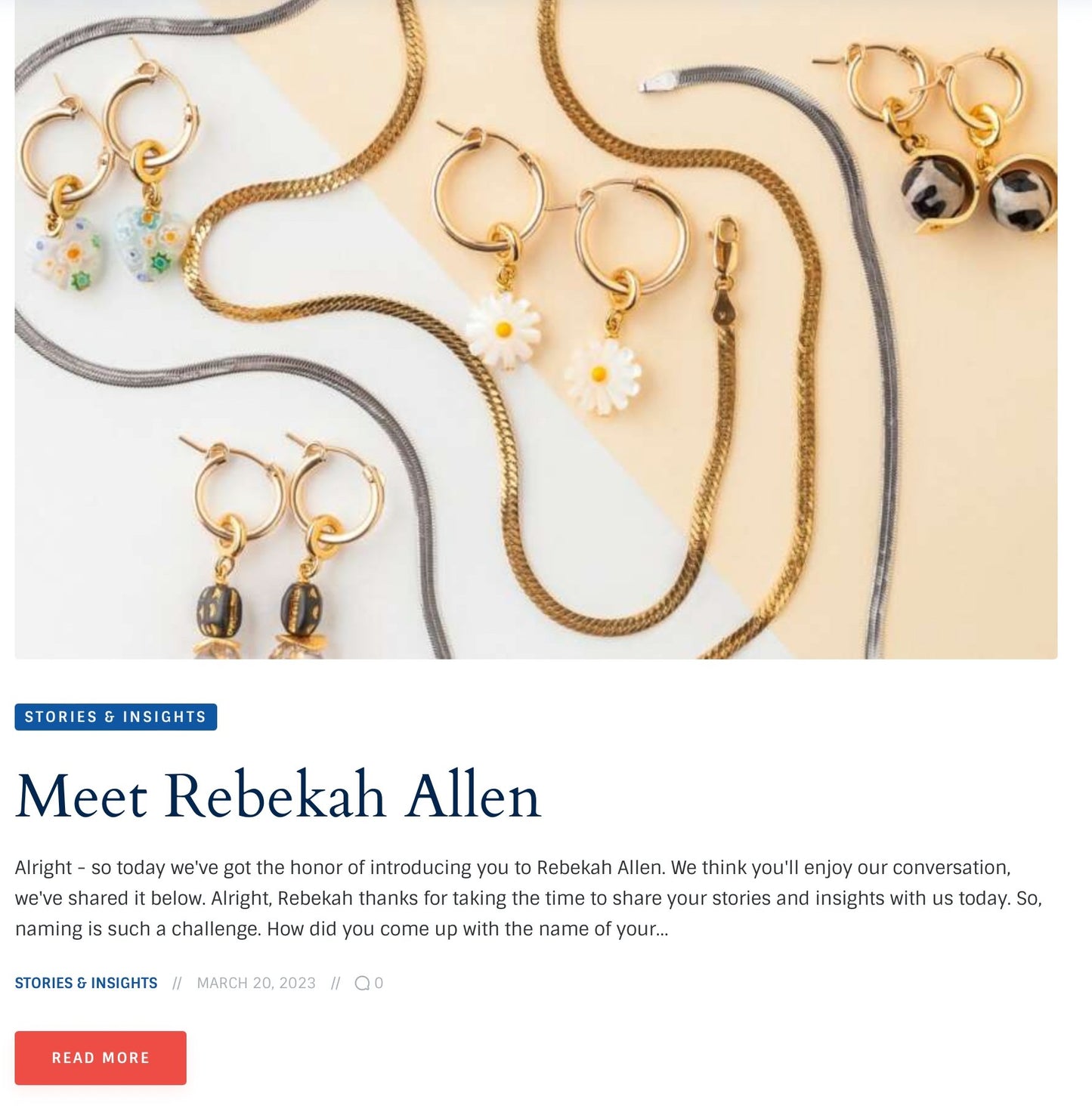 Canvas Rebel: Founder Interview
Canvas Rebel is an online publication with the mission to create a space for artists, creatives and entrepreneurs to be able to learn from their peers through the magic and power of storytelling. 
We recently sat down with @canvasrebel to share our founder story and a bit of behind the scenes insight into Le Serey! See the original interview here: Canvas Rebel: Meet Rebekah Allen
Canvas Rebel: Meet Rebekah Allen
Alright – so today we've got the honor of introducing you to Rebekah Allen. We think you'll enjoy our conversation, we've shared it below.
Alright, Rebekah thanks for taking the time to share your stories and insights with us today. So, naming is such a challenge. How did you come up with the name of your brand?
"Le Serey" means "the free". Our name is a combination of both French (Le) and Khmer (Serey), and embodies our most important brand values – independence and freedom. I started my brand while living in Cambodia and working with women in prison. In my career, I have always worked with vulnerable women, so freedom and independence are important values to me as a consumer and as a brand owner. We want our brand to give women the freedom to create their own jewelry collection that best suits their personal style, as well as the freedom to update those pieces when their style changes. We do mineral tracing on our gold to ensure that those who are directly involved in the making of our pieces are not being exploited and have the means to live free and independently as well. Our logo is a modification of the Apsara dancer – the South East Asian version of a ballerina, which represents strength, independence, and feminine grace. Many of the women in the Le Serey community are the perfect embodiment of these values already, and we are grateful to be a small part of their journey.
Awesome – so before we get into the rest of our questions, can you briefly introduce yourself to our readers.
I am not a traditional designer by trade. Growing up, I have always been creative and made my own jewelry and accessories using whatever was on hand. However, my undergrad is Communications & Journalism, and my Master's is International Development. When I graduated, I moved to India and worked in anti-trafficking. There I worked in an aftercare facility that helped trafficking victims process their trauma and receive the care and tools they needed as they moved towards independence and freedom. Every afternoon I'd teach jewelry making as group therapy. As the women progressed in their skills, I helped them start their own business making and selling jewelry as a means of income. Later in Cambodia, I worked for an organization that supported families of prisoners and I specifically worked with women in prison. Many of the women in prison had previously worked in the garment industry, but because wages were so low, they had turned to selling drugs or prostitution to make ends meet. Both groups of women I worked with came from different backgrounds, but often the root of their exploitation was not having sustainable, dignified work. The impact that these two groups of women made in my life is why I am adamant about ensuring the sustainability and ethics behind my jewelry brand.
What sets Le Serey apart from comparable designer jewelry brands is our commitment to quality, sustainability, and affordability, as well as our mix and match element that let's women own pieces that can be worn multiple ways. I don't find this combination from any other jewelry brand, and I love that we can bring value and versatility to our customers. The advice I keep getting from *big retailers* and other designers is that I need to raise my prices. But I'm adamant that if my retired teacher mother can't afford my jewelry, then I'm doing something wrong. It can be difficult to find the balance sometimes, but I want my jewelry to feel elite, but be accessible and affordable to the everyday woman.
Okay – so how did you figure out the manufacturing part? Did you have prior experience?
As a handmade jewelry brand, most of our products are designed and assembled in house. However, many of the metal components we use are custom designs, so we outsource the casting and moulding of these design elements to two different manufacturers. Finding these manufacturers was about a year-long process of cold calling and emailing. We have specific manufacturing requirements for quality, as well as sustainability and ethics. This, combined with the fact that we are a small operation and needed to convince a factory to produce for us with very small opening orders – it often felt like a near impossible challenge. Sticking with it and finding the right partner who values your business and product and much as you value them is priceless. Along the way I've learned how to negotiate and advocate for myself an my business. I've also learned to be a sales person (not only to my customer), but to my manufacturers as well. Many didn't want to work with me because they didn't see the value in my business if I wasn't brining a large opening order. I had to sell them on the long term value that a partnership with me could bring their operation down the line. The factories I work with now have bought into that vision and they've been amazing partners along my journey.
How'd you think through whether to sell directly on your own site or through a platform like Amazon, Etsy, Cratejoy, etc.
I sell on my own website: www.leserey.com. I offer both retail online and wholesale to boutiques. I haven't joined any of the big platforms like Etsy or Amazon, for several reasons. One being that the high fees they often charge would force me to raise my prices overall. Another con is that I want to be 100% in charge of my customer experience from start to finish, and I wouldn't be able to provide this as well on a third party website. For my customers, I want Le Serey to feel like a luxe, boutique buying experience, while staying affordable for the everyday consumer. This means, however, that I have to work extra hard to drive consumers to my website by developing smart, effective ad campaigns, and by constantly working on SEO and optimization to drive traffic. This is a lot of time and effort, so I understand why other brands would want to start out on a big platform that has a ready-made audience, but the lessons I've learned along the way have been invaluable and I wouldn't change a thing.