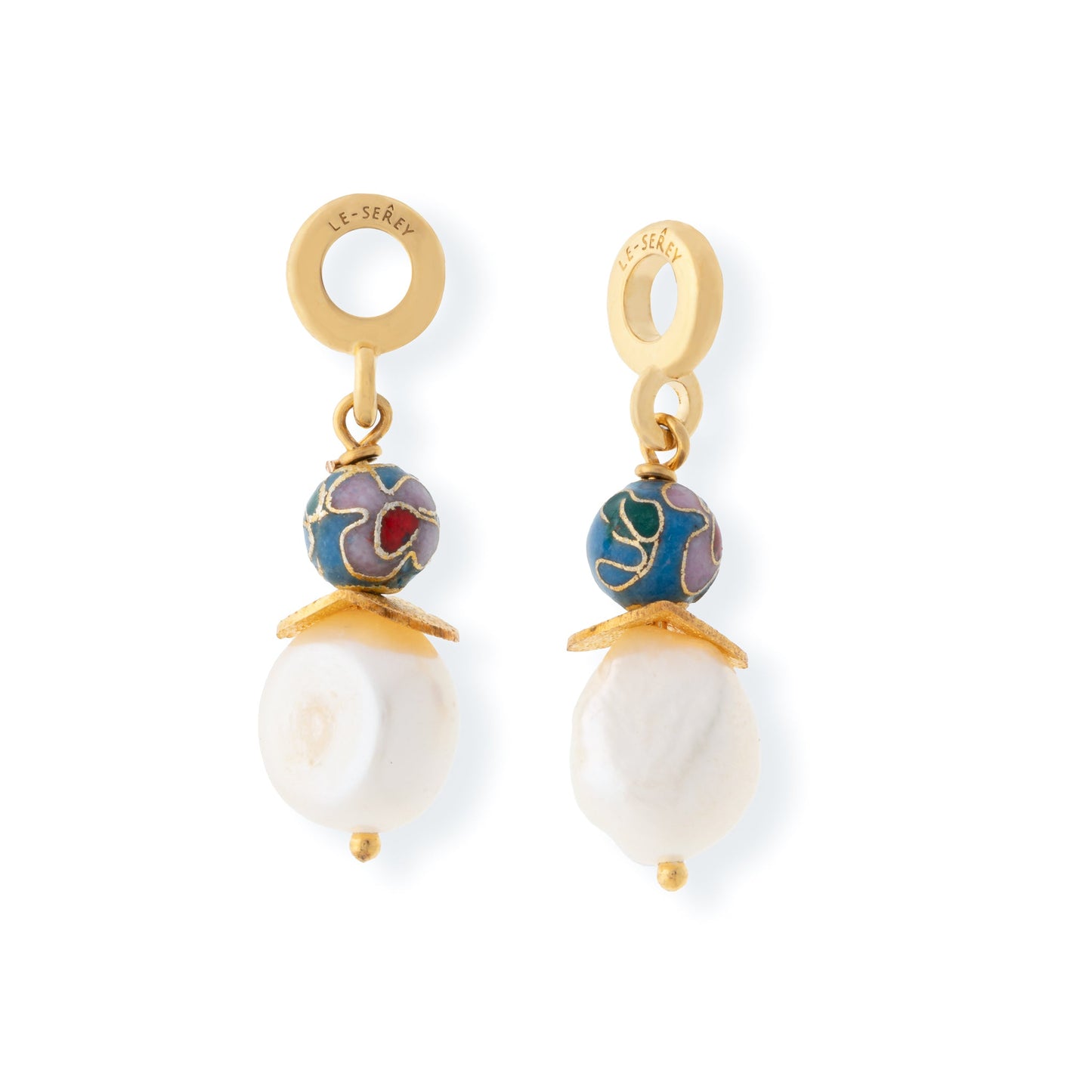 Elevate Your Style with Le Serey's Hoop Earring Charms
In the world of fashion, it's the little details that often make the biggest impact. Accessories have the remarkable ability to transform an outfit, and our signature accessory that has been capturing the attention of style enthusiasts is our Hoop Earring Charms. Our hoop charms open a whole new world of mix-and-match options. Handmade in the Le Serey Design Studio, these charms are made to turn a basic hoop earring into dangle hoop earrings - opening the door to creating a new look every day.  Our Le Serey Hoop Earrings are available in seven sizes - from huggie to oversized - and in your choice of 14k gold filled or 925 sterling silver, for a truly unique and personalized appearance.
Unveiling the Artistry: Handmade Quality Craftsmanship
Le Serey's Hoop Earring Charms are a testament to the artistry that comes with handmade craftsmanship. Crafted in the Le Serey Design Studio, these charms are a fusion of creativity, passion, and dedication. Each charm is meticulously designed and hand stamped with our logo, resulting in a piece that exudes luxury and sophistication, creating a dainty dangle to add to your gold hoop earrings. Unlike mass-produced accessories, the attention to detail and the level of care put into crafting these charms ensures that you receive a one-of-a-kind accessory that speaks to your individuality.
The Heart of Creativity: Le Serey Design Studio
Behind every beautiful piece of jewelry lies a story of creativity and innovation. Le Serey's Hoop Earring Charms are born in the Le Serey Design Studio, a hub of inspiration where ideas come to life. The studio is a place where we experiment with materials, colors, and designs. This dedication to innovation is what sets Le Serey apart, making their accessories a true reflection of modern style infused with traditional craftsmanship.
Endless Possibilities: Mix and Match Your Hoop Earrings With Charm
One of the most exciting aspects of Le Serey's Hoop Earring Charms is the boundless potential for mix and match. These charms for hoops offer an array of styles, from delicate and intricate designs to bold and statement-making pieces. Change your small hoop earring for a larger size for a completely new look, add a charm to either size and turn your hoops into charm earrings. Whether you're dressing up for a formal event or adding a touch of elegance to your everyday earrings, there's a charm to suit every occasion and mood. Imagine pairing a dainty flower charm with a classic gold hoop for a bohemian date, or opting for our heart charm for a girls night out. Add a charm drop to your silver huggies to turn sleeper hoops into dangle earrings. The mix-and-match options are limited only by your imagination.
A New Look Every Day: Embrace the Possibilities
With Le Serey's Hoop Earring Charms, gone are the days of feeling confined to a single accessory style. Our collection encourages you to embrace the beauty of change by offering the opportunity to create a new look every day. A single pair of hoops mixed and matched with an assortment of charms, instantly transforms your appearance from playful to sophisticated, from minimalist to extravagant. This versatility allows you to stay true to yourself while adapting your style to the ever-evolving moments of life.
In conclusion, Le Serey's Hoop Earring Charms encapsulate the essence of handmade luxury and personalized style. Crafted with impeccable quality and attention to detail, these charms invite you to explore the realm of mix-and-match possibilities, all while hanging gracefully from your choice of gold or silver Le Serey Hoop Earrings. The Le Serey Design Studio's commitment to creativity and innovation ensures that each charm is a testament to your individuality. So, why settle for ordinary accessories when you can elevate your style with the extraordinary charm of Le Serey's Hoop Earring Charms? Embark on a journey of self-expression and reinvention, one charm at a time.
Le Serey is a small business, founded on the principles that women should have the freedom to create their own style. We use quality, hypoallergenic materials such as 925 sterling silver and 14k gold filled. We also launched a solid gold collection at direct to consumer prices.